(5/20/13) NEW UPDATE: Well it's been a while since I've updated the site. We've been busy with
work and life and just haven't had the time to take any orders.
Stay tuned because in June we expect to be placing an order.
....Doug
Check out the Heids video on the About page.
Heids was on Man vs Food.
Proudly Featuring
Hofmann Brand Products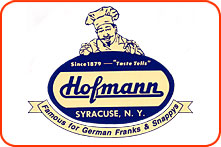 Home | About Dougie Dogs | Order | Product Info | How to Prepare | Mailing List
Dougie Dogs, Gourmet Franks and Coneys, snappys, Houston, TX, Best Hot dogs, Best Hot Dogs in Texas, Best Hot Dog in Texas, Best Hot Dog in Houston, Best Hot Dogs in Houston,Texas, The Woodlands, Spring, Duggie Dogs, coonie, coony, Hofmann Brand, hoffmann brand, catering, hot dog catering, event catering houston,
Hofmann Suasage, hofmann sausage, hoffmann sausage, Zweigle's white hots, white hots, Heids of Liverpool, CJ's Grill, BT's Grill, Gourmet Junk Food, 19th Hole Grill & Bar, Doggie Dogs, Syracuse